The ups and downs and ins and outs of being in love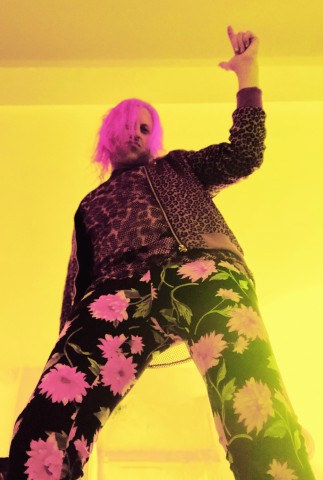 Love works in many weird ways. LÖVE recently announced the re-release of his breakout debut album "Loveula", after spending the last few months back in Philadelphia, not by choice (he had relocated back to the beaches of Los Angeles – building two epic new albums for 2020 out of the ashes of failure of a seemingly perfect marriage one day, over the next. Seemingly without any efforts to seek mediation of take a breather it was on, then shortly after a fantasy football draft party (his most crazy passion, LÖVE and his Jaguars and annual touring plans would be re-routed through steamy Jacksonville during some awfully depressing football seasons, but he had the best time of his life, basically taking over the party for a week or two hosting legendary shows and parties and introducing his many touring season friends from the Justin Timberlake/Jay Z tour to Iggy Azalea, half of the world famous Magic City Atlanta staff and dancers, to fellow ex-bad boys Motley Crue and upcoming Manband comedy series he is shopping around Hollywood co-star Mickey Avalon and for the NFL's Jacksonville Jaguars immortalized in hit NBC comedy The Good Place his life in chaos, shuffling back and forth between a turbulent relationship with his wife and getting deported from the UK and later from the USA. After overcoming emotional and psychological breakdown, he has finally released the album that was put on the sideline in the past few years. The album "Loveula" features 10 melodious songs, showcasing the artist's powerful vocal delivery and hard-hitting lyrical prowess, embedded in captivating rhythms and beats.
He doesn't do anything by halves and regularly quotes Van Halen firecracker David Lee Roth's "anything worth doing is worth overdoing" with a healthy dose of "once is a mistake… but twice, is jazz" leading him to many moments of "if you ask, they will say no, but when they see the cast on the foot, 20 of the biggest smiles on faces smeared with last night's makeup and any opportunity to get naked in the surf sharing the secrets of creating the perfect art in a "perfectly imperfect world… Just like me! I just got more scars and less sleep because I need to live as much as possible – I embrace the ups, the pain and loss, it hurts but choosing love and kindness in the face of bad luck or narcissistic attacks on your friends and family or whatever – keeping love as the motivating factor and showing forgiveness also is the only way to truly let go too, so there is that haha, party!"
LÖVE says "party' a lot.
it's not all about the party however, there is a serious – deadly serious side to everything he touches or says. He cares about pretty much everything, and boy is he well informed and opinionated on everything – everything!
It's a trait that could easily come across as arrogance if it wasn't so beautifully framed in connecting many disparate dots to reveal a bigger picture incredibly detailed yet at the same time stunningly simple picture of self, the music industry, the politics of the day, Pantera, Grimes, Lorde, and his dear friends he is trying to fit in recording sessions with – new Australian pop queen Boi. Music matters. music matters a lot.
Love has always been surrounded by music since childhood, as his mother was an Opera and Choral singer who played Piano and performed regularly, in fact she is "still giggin' today – how punk rock is performing in your 70's! Blessed!"
Love's mother wasn't that overjoyed in his penchant for heavy rock music but she was fantastic sport putting up with his long hours of Maiden, Metallica & Gunners, on all the long drives to sports carnivals and holidays.
"The best thing about a good live album is you can milk 2-2.5 hrs of a 4hr drive and then there's still Wagner time.
In the past year, Love was in the perfect relationship and happily married with his lovely wife, until he hit the wall financially, after investing in a couple of failed projects. He went broke, which started affecting his relationship with his wife, who was sort of having a midlife crisis herself. Love was in a complex state of mind, with no money to meet necessities, and no hope for a better future, he started falling into depression. After being told, "he had no redeeming qualities", Love was pushed off the edge and knew that he can't live like this. He picked up his long lost love for music and put all his focus on creating good quality music while finding a way of expression in it.
I had the head of a Mens Depression/Suicide Prevention Charity screaming at me for asking about talks with my wife I hadn't been told about, then being hung up on, his wife saying "how could you di this to our family?" And nothing ever since…. I mean "what even just happened?"
"The last couple years have been the most ridiculously crazy greatest ever ups and then greatest ever lows to the point where I barely believe that my story as I'm telling it could have possibly have happened – and I lived it all!", states the artist, who's now back in the game, and enjoying his new life to the fullest.
Love chose to never be a slave seeple, working 9-5 doing an unimportant job, with awfully bland to vapid people for a company that is ruining the world for all of us now and in the future. It is the sound of love that defines him, along with the grunge of the '90s that are more of his kind of sound and generation. He always loved other more aggressive genres like West Coast Hip Hop and ATL crunk right through everything, but country to Dubstep and Metal is where you will find his real Love.
Listen to Love's album "Loveula" on spotify.com or anywhere music is sold/streamed. You're going to love it!
Media Contact
Company Name: Rockstarmusiccompany.com
Contact Person: Press Executive
Email: Send Email
Country: United States
Website: smarturl.it/loveulalove