Povison Mother's Day Home Gifts: Top Gift Ideas to Elevate Mom's Space
Sacramento, CA – With Mother's Day is coming, which is on May 14 in 2023, Povison has announced its latest guide of home furniture gift ideas to elevate mom's living space. From comfortable chairs to luxurious dining room sets, the guide features a curated selection of furniture gifts that are both stylish and functional.
"As Mother's Day approaches, we wanted to offer a range of furniture gift ideas that would help elevate and transform any living space," said Povison spokesperson. "We understand that our moms deserve nothing but the best, and that's why we have put together a thoughtful selection of furniture gifts that are sure to make them feel special."
Here is the gift guide featuring five unique furniture gift ideas, including:
Cozy Sofa – It would let moms comfortably sit, lean or lay on the stylish couch to relax and entertain. The high-density sponge and strong support provide great sitting experience.
Comfortable Accent Chair – A comfortable chair is a perfect gift for moms who love to relax with a book or watch their favorite TV show.
Luxurious Dining Room Set – Bring a new dining table set to update mom's the dining space. A wide and stylish dining table with comfortable chairs is a perfect way to show mom that you care about her dining environment, rest and relaxation.
Elegant Coffee Table – For a coffee or tea lover, a coffee table can be awesome choice as a gift. With it, moms can perfectly enjoy drinking time with friends and family members. It is not only a functional piece of furniture but also a great way to enhance the style of any living room.
Chic Makeup Table – The dressing table is the best option for a mother who loves makeup to store the cosmetics and haircare products. Additionally, it brings tons of style and personality to mom's bedroom.
Stylish Area Rug – An area rug adds texture and warmth to any room, making it a thoughtful and practical gift for moms.
Beautiful Wall Art – Wall art is a great way to add personality and style to any space, and the gift guide offers a range of options to suit any mom's taste.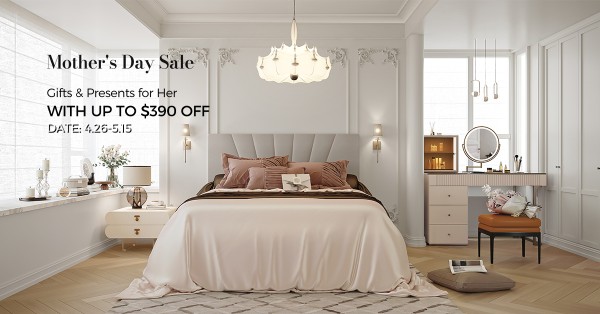 Each furniture gift idea is accompanied by tips for selecting the right piece and ensuring that it fits seamlessly into mom's living space.
"We believe that these furniture gifts will not only help elevate your mom's living space but also bring a smile to her face," added the spokesperson. "At Povison, we are committed to helping our customers find the perfect gifts for their loved ones, and we hope that our Mother's Day home furniture gift guide will do just that."
Want more furniture gift ideas for different styles and budgets? Visit Povison Mother's Day sales event.
About Povison:
Povison was established in the United States in 2020, with branches in California, Texas, Georgia, New Jersey, and Guangzhou. Meanwhile, Povison has a huge online selection that puts our collections at your fingertips no matter where you are. Hundreds of millions of exposures have been accumulated on various media platforms, covering consumers from many countries. The brand is committed to providing high-quality products, unique designs, and timeless styles to half the world's families. Povison firmly believes that quality never goes out of style. Furniture should be sustainably sourced, thoughtfully designed, and timeless. Today, Povison partners with artisans worldwide who share a vision: to create heirloom-quality homeware that brings the aesthetics of life to half the world's homes.
Media Contact
Company Name: Povison Company
Contact Person: Rainbow Smith
Email: Send Email
Address:1401 21st ST STE 4423
City: Sacramento
State: CA 95811
Country: United States
Website: www.povison.com