EchoTik launched TikTok live function to help users monitor and analyze TikTok live streams on time
According to reports, TikTok Shop will enter 12 new e-commerce markets in the next year, including Australia, New Zealand, France, Italy, Brazil, Spain, and other European countries. From 2021 to 2022, TikTok Shop opened shops in South Asia and Europe, including Indonesia, UK, Thailand, Malaysia, Vietnam, the Philippines, Singapore and the US.
Operating a TikTok Shop or a creator account, however, is not easy for everyone due to a lack of data statistics, especially when users want to do target market research, discover creators to collaborate with and best-selling products to sell, and monitor data of live streams.
As a consequence, a tech tool that includes a database of TikTok creators, shops, and products with multi-dimensional analytics is dedicated to remedying these issues. EchoTik.live is a third-party TikTok analytics platform. Our mission is to empower sellers, creators, marketing agencies, and brands around the world to leverage short video and live-streaming strategies and make sales and promotion easier.
EchoTik.live (https://echotik.live) was founded in mid-2022 with an official website and a chrome extension, by a Singapore start-up called EchoSell, which was funded over millions of dollars in the angel wheel round. Team members come from leading internet companies specializing in e-commerce. After updating four times per month, in late November, EchoTik.live released its full version globally and you can register an account via Google or e-mail for free.
Download Chrome Extension: https://chrome.google.com/webstore/detail/tiktok-analytics-by-echot/napmaafilgfpfohgpjokahilhgmkkfjo
In the latest update in January 2023, EchoTik (https://echotik.live) launched a new function: TikTok live stream monitor, to help sellers easily monitor, extract, and analyze TikTok live stream data.
After an account is added, it is automatically monitored on the cloud, and users can set multiple conditions for notification. EchoTik can monitor and extract sales, traffic, audience portraits, and many other indicators. The data can be exported for further analysis.
Usage guide:
1. Add new monitoring
Start adding a monitor:
Set parameters:
2. View monitoring data
Open Monitor list, click on the monitoring task you added: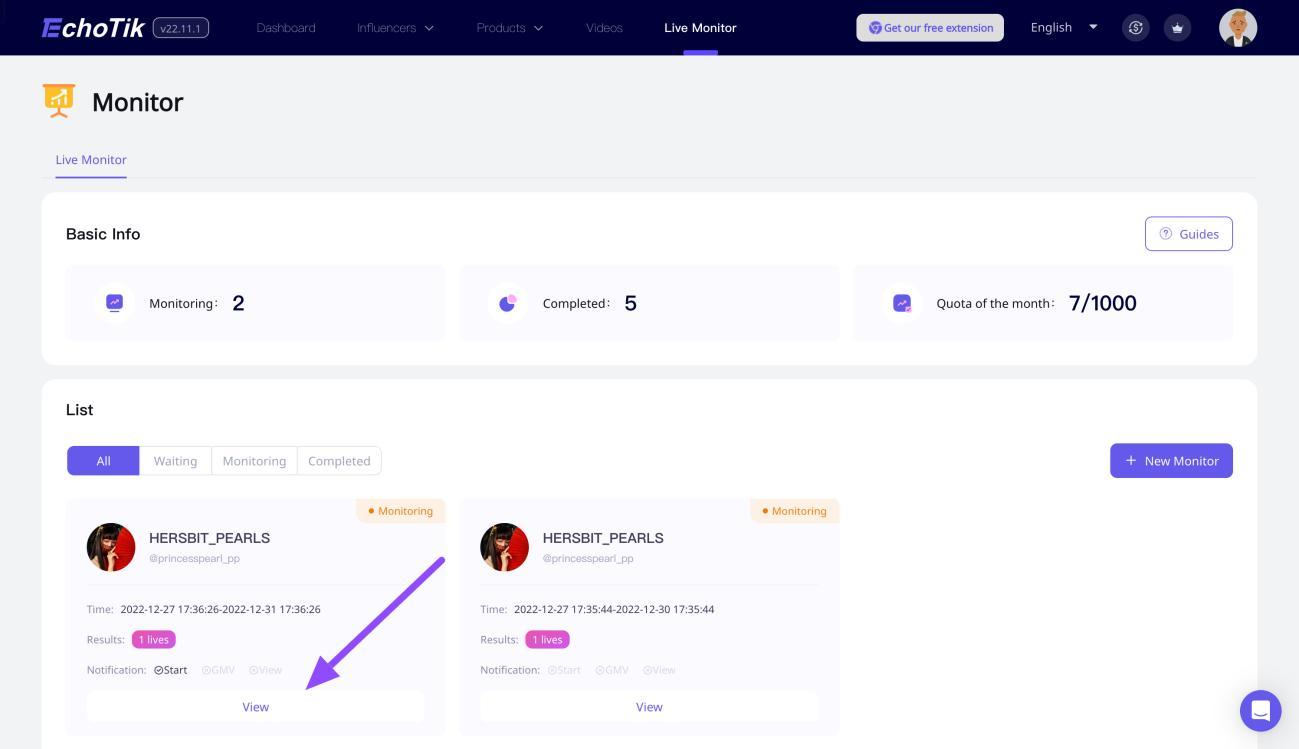 You can find that this task has monitored 1 live, click to view.
Now you can analyze this live.
Media Contact
Company Name: ECHOSELL CORPORATION
Email: Send Email
Country: Singapore
Website: https://echotik.live